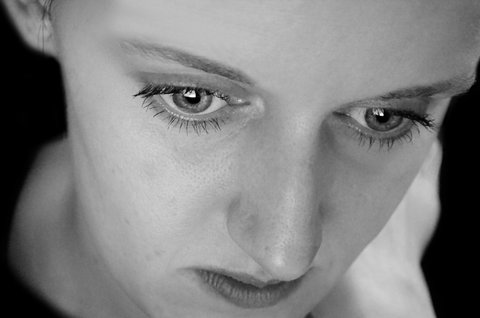 This is an article that got a lot of love back in 2012. I still hate reading it, but it worked so well, I just have to share! Love it UP!
"Ever had that one client, that one boss, that one family member that EVERYTHING you do with them doesn't work? No matter what they need, you screw it up?
I had a presentation with THAT customer today! 
Today I had a presentation in the last stages of a competitive bid for an important contract.
Wondering how to go from 5 to 6 figures in sales? Check out this Free eBook: http://ebook.solidsixblueprint.com/solid-six-ebook/
EVERYBODY was on the phone.
The Executives, the decision-makers, the business unit people, the purchasers. EVERYBODY.
This presentation went the way all of my other interactions have gone with this customer. Wild technical difficulties to start. Fumbling my words. Stilted maneuvering through the product I was demonstrating. It's been like this since the beginning…
A fun history
It's been a train wreck the whole way through.
My first meeting with them I had to cancel because I was driving to see them mid-winter and I couldn't get out of my neighborhood, the roads were so bad.
In my first presentation with them, they were ALL ice cold. I could not get meaningful eye contact with any of them.
Submitting my proposal – well, that went OK.
The technical call with my Senior Vice President of Product Development and their whole team – I was a FULL eleven minutes late to the call (unprecedented).
This last presentation – just BARELY ran at all and BARELY got it done in the time allotted.
OY! 
I was disenheartened after this call. It was my last opportunity to make a good impression. But, here's the thing. We really do have a GREAT solution for what this customer needs.
What's a girl to do?
My first inclination was to let it ride
I had done what I had done. It was over. RIGHT?
Then, the scary move
I wrote to the icy-est (is that a word?) business analyst. I wrote (paraphrase):
"Have you ever had that ONE client, that ONE boss, that ONE family member that you could never get it quite right with?
"For some odd reason your company seems to be that for me. I apologize for the technical difficulties I put you through. My presentation was stilted and I hope I didn't put everyone to sleep. In nine years, I have never had this experience of everything going wrong. I hope that people can let the great products and services shine through, in spite of my bumbling. Is there anything else you need from me?"
I HATED looking this ridiculous, but you know what happened? 
This Icy person sent me a warm email. She said "The technical difficulties didn't bother any of us – it was a simple thing to manage. I have passed your email to the head of purchasing."
Two birds with one stone!
Pretty cool! Not only had I been a "human" with the business analyst, but she gave me the opportunity to be a "human" with the purchasing person, too.
We might just win this thing! 
We might not. But at least I can rest knowing that I have put the best possible foot forward for my company with products and services that deserve to win the contract.
MORAL OF THE STORY
Do not be afraid to let people know that YOU know that you could have done better and that you care that you didn't do your best. People are amazing.
Love your vulnerability UP!
The Irreverent Sales Girl"