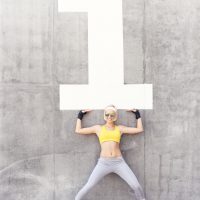 "The One Thing" beats the "One Stop Shop"!
Do you represent a company with a full suite of services? Your products and services cover all of your customers' needs? That's great!
But, the minute you start calling yourself a one-stop-shop, you will start losing business.
Click to Watch the One Stop Shop Episode of The SellOut Show! 
Here's why:
People only care about one or two things at a time. If they can't relate to the ONE THING you can do for them that will make their life better– they will move on to someone who meets their needs more specifically.
It's lazy. Even Wal-mart – which you could argue is a one-stop-shop – doesn't market themselves like that. They are KNOWN for rolling back the prices. That's their jam. And, that's what they say about themselves. What are you KNOWN for? Can you say it quickly and succinctly so that your customer knows you're a solution for them?
It's lazy – part two. If you tell your customer you're a one-stop-shop for all their blah-blah-blah needs, they tune you out. So, you're likely to sell them one thing and then find out they bought something else you could have done FROM A COMPETITOR! Because one-stop-shop doesn't mean anything to them. Don't assume that they are going to do the thinking for you!
Here's what to do about it:
Understand what your customer cares about and start with the solution that meets that need FIRST. As if it's the only thing you do. You must get in their world. Ask the right questions quickly.
Figure out what you're KNOWN for. Wal-mart is known for rolling back the prices. Cover the rest of what you offer in future conversations.
After you've solved the first problem (and have INK ON PAPER) ask your customer what else their job entails.
What does their boss or their company count on THEM for?
Want to Go from 5 to 6 Figures in Sales? Get your FREE eBook!
This will allow you to find other intersection points where they can buy from you. They don't have to buy today. But, you might say something like: "A lot of people in your position start working with me because I solved their stationery problem in a re-brand, but they're surprised to learn that we're also experts at putting together the most beautiful and professional brochures their company has ever seen! If you ever run into that situation, you should let me know!"
Explore with your (happy) customer all the different ways your suite of services could impact their company. HINT: Let THEM do most of the talking and asking.
Next time you find yourself about to say that you're a one-stop-shop, STOP! Do the thinking:
What do this customer need NOW?
What are you KNOWN for?
What ELSE might they need in the future?
Now, you've got sales opportunities for days! And a great relationship with someone you've helped.
Watch The SellOut Show Episode on this topic!
And GO GET YOUR FREE COPY of the Solid Six Blueprint: How To Go From 5 to 6 Figures In Sales. http://bit.ly/SolidSix
Love 'em UP!
The Irreverent Sales Girl
Thoughts about this...