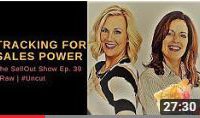 In this latest version of The Raw & Uncut SellOut Show, Shawn and Dianna drop some nuggets on how to nail your sales goals.
Tracking Creates Magic in Your Pipeline
Find out if:
* you're tracking the right activities to meet your goals
* what you can start doing TODAY to achieve reliable success
* how well Shawn knows the all-time best basketball stars
Join the fun and learn the cool tools that will rock your 2018 sales plans.
Thoughts about this...