I promised this week would be about some of the best in the biz to learn from! Great salespeople are not born – they learned how to be that way!
Thank Goodness, because I am anything BUT a natural.
But, I was committed. I learned, and I learned, and I learned. And I got really good!
Wondering how to go from 5 to 6 figures in sales? Check out this Free eBook: http://ebook.solidsixblueprint.com/solid-six-ebook/
But only because I was learning from the greats!
Today, I want you to check out Mark Hunter's new book – High Profit Prospecting!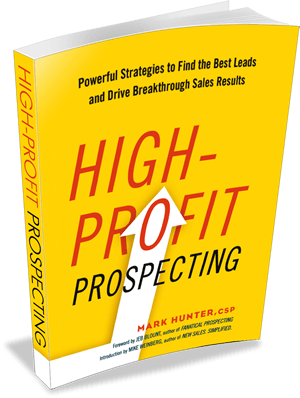 It's a little like the great tips you need for making the most of your workout at the gym.
I mean – who wants to go to the gym and work really hard, just to find that they exercises they are doing are getting them nowhere near to their goal?
Same thing with prospecting. Nobody thinks it is easy or comfortable, but your success as a salesperson depends SOLELY on your ability to prospect and have plenty of the right people to call on!
This book takes you there fast!
Here's Mark talking about the book: https://www.youtube.com/watch?v=jtaurUelIqQ
And, here's how to get the book! http://amzn.to/2d901gv
Make an investment in yourself and …
Love your prospecting UP!
The Irreverent Sales Girl
Psssst….want to get the really good stuff? The stuff you can only get in my Totally Irreverent Tuesday newsletter? Sign up here: http://bit.ly/IrreverentTuesday